Our Story
We often are asked...how did you
get into all of this? We usually just smile and say, "Well it has been
quite a ride!" Here is our story...

Albert Katz and Kim (not yet a Katz) first met at UC Berkeley some time ago. Albert was studying California politics, and in particular the history
and its use of water for irrigation - the 'seed' of his interest in
small-scale farming.

One thing lead to another, and after marriage and the arrival of our first daughter, we were opening our own restaurant - both of us in our mid-twenties at the time. This was long before the Slow Food and sustainable food movement existed; yet much of our inspiration was being provided by Alice Waters at her groundbreaking Chez Panisse Restaurant in Berkeley, CA.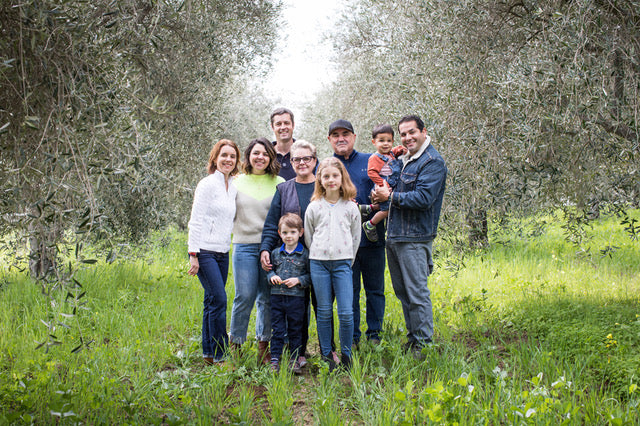 We had a sensational run for ten years with our
elegantly small dinner house serving 'local' and seasonal foods
influenced by what was available at 'market.' Here, Albert honed his
culinary skills during a period of rapid change in the American food
scene, but time, and the arrival of their second daughter, had given him the feeling that our journey in the burgeoning food landscape was not complete.

So off we went on an inspiring trip
to Italy where we tasted many new things, but it was the olive oil that
truly excited Albert. As luck would have it, the olive oil production
in Northern California was just about to bloom and a large part of it
started in the Napa area where Albert and Kim moved their family in the early 90's. Quite serendipitously, Albert became one of the founding
members of the California Olive Oil Council in 1993 and the next chapter was beginning to take shape.

In the late 90s, we met our farmer friend, Jim, and together we began our education of growing Tuscan and Italian varietal olive trees in California. Now, decades later, the mature groves in the historic and agriculturally rich Suisun Valley, yield fruit that has been responsibly and sustainably farmed year after year. Our olive oil making skills have proven to be well honed as we have garnered 40 plus Gold Medals over many years of making our extra virgin olive oils.
We also are proud to produce Orleans Method vinegar
in an historic stone Carriage House on our Rock Hill Ranch. These are
recognized on the Slow Food Ark of Taste, and have received several Good Food awards.

Kim and Albert remain
committed to continuing their support and participation in the evolving sustainable food movement. As they search for some calmer waters at this point in life, they are thrilled to have found the perfect "partners" to work with and to carry on our KATZ legacy.

Jeff and Patrick Martin, a father and son 5th generation farming family,
planted 3500 trees in San Martin, CA in 2005 and today produce certified organic and award-winning extra virgin olive oil that we have admired for years. We both look forward with anticipation to working with our new "friends" and feel a renewed energy by what lies ahead and look forward to this new chapter at KATZ.