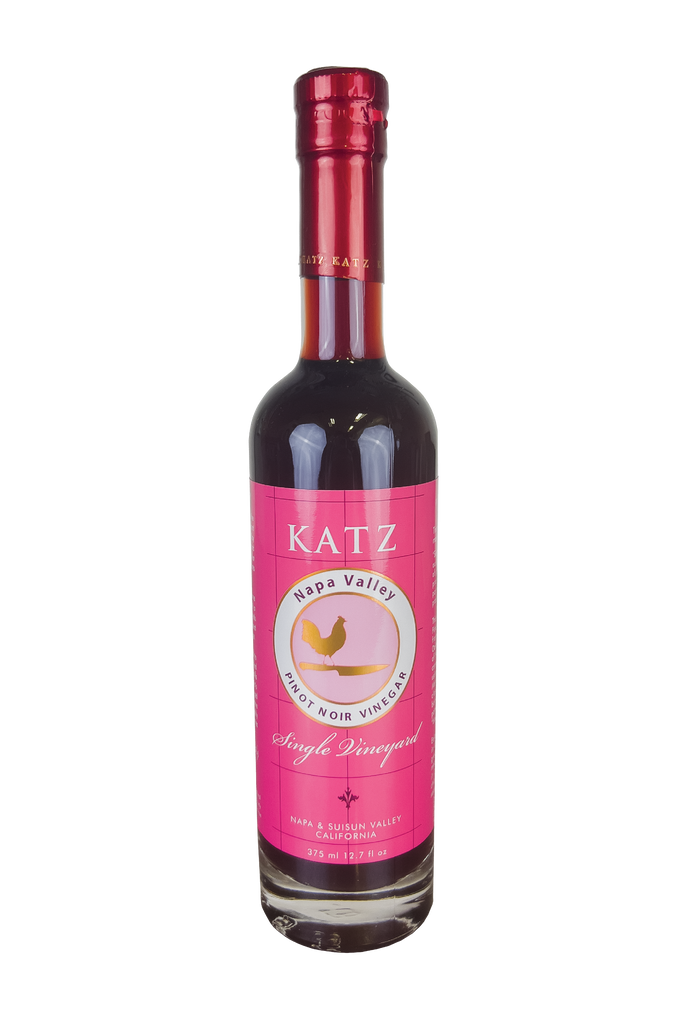 6% acidity  

3 bottle limit per customer, Please!
There are no shortcuts to making handcrafted vinegar.
The release of our new KATZ Pinot Noir Vinegar, Napa Valley, represents our first "Single Vineyard" designation. These are very limited lots of grapes that are all grown in one provenance highlighting a single varietal.
This vinegar comes from 100% Pinot Noir grapes harvested from the world-renowned Oak Knoll region in the heart of the Napa Valley. I was fortunate to strike up a friendship with a highly respected winemaker from the area, and I mentioned to him that if he ever had some small production wine that he could part with, I would like to try converting it to vinegar and maintaining the integrity of the varietal. We have been in touch over the years and he has generously sent me some samples along the way, and this bottling represents our first joint effort!
The first batches of this vinegar have been aging in neutral oak barrels for nearly a year using the very "Slow" Orleans Method. The vinegar highlights classic Pinot Noir with notes of tart berries, plum and even pomegranate with hints of sweet spice. It is nicely balanced with a backbone of crisp acidity.
The clean and balanced flavor of this vinegar will enhance many dishes as well as providing a pleasant but solid core of acidity to any dish or recipe. 
Slow Food Ark of Taste Statement:
Though scientific advances have made large-scale production of vinegars fast and easy, it is the handcrafted Orleans Method that allows for the most full-bodied and nutrient-rich wine vinegars. Unlike most modern vinegar making, which is based on rapid, forced fermentation, the Orleans Method requires the vinegar to age for months in small oak barrels. As a consequence of this extensive process, very little commercial production of the vinegar exists in the US.
You Might Also Like
A Curated Collection of Foods Hand Crafted By Our Friends