KATZ RANGE WILDFLOWER HONEY - Sold Out!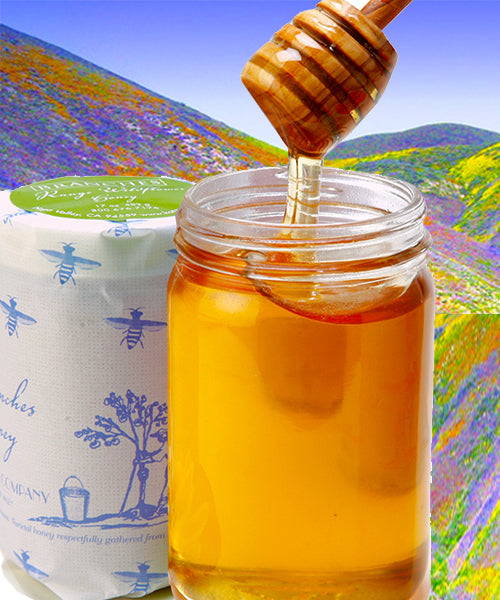 KATZ RANGE WILDFLOWER HONEY - Sold Out!
KATZ RANGE WILDFLOWER HONEY 16 oz. (that is one pound!)      $15
New gathering...We are wild about this batch!
About Our Range Wildflower Honey:

This season's gathering comes from wild California buckwheat flowers and wild sage flowers both found along the coastal regions from Central California to the south. Buckwheat produces lovely pink and white flowers and is a prolific source for not only honeybees but butterflies and other pollinators. The light blue and lavender flowers of wild sage are also found in the coastal mountains as well.
This naturally blended, medium amber colored gathering of honey has a rich and robust flavor with notes of soft caramel, and hints of maple and sweet spices on the palate, and it's all tied together with pleasant piquancy and warm notes on the finish. Some "sweet" notes about wild buckwheat...it is very high in mineral and polyphenol content and it is also drought tolerant and will bloom in even dry years!
SERVING SUGGESTIONS: If you like the taste of honey in your tea, a spoonful of Range Wildflower will brighten the moment; or try warming it a touch and drizzling over vanilla ice cream!
Three Jar Limit Per Customer, Please!
"Fantastic honey is like a superb wine: sophisticated, complex, distinctive." Oprah Magazine
About Our Honey
Bees produce honey from the nectar of blooming plants, but the nectar produced by one flower will be different than that of another flower. Our mission is to seek out distinctive California flora which produce honeys that have the qualities in aroma, taste, texture and color reflective of their particular species of flower.
All of our honeys are gathered directly from the hives and bottled unpasteurized, thus maintaining the multitude of health benefits associated with honey that are often lost in traditional commercial honey from overheating to eliminate crystallization.
As many of you know, it has become increasingly difficult for the fantastically hard-working honeybees to gather the nectar from dwindling floral sources given the drought in California, the ongoing impact of Colony Collapse Disorder (CCD) and the increasingly harmful effects of habitat loss. We work closely with beekeeper friends to bring you the highest quality and best tasting honey that is currently available.
Please note: Crystallization is normal for unheated and unfiltered honey such as ours, but honey is good forever because its antibiotic properties keep it from spoiling. You can improve the quality of crystallized honey by placing the opened jar in hot water bath and stirring it until it liquefies.